Many logging operations hauled all the rough logs to a big mill for processing. But sometimes, depending on local conditions, this wasn't the most efficient or cost effective option. Enter the portable mill. It was designed to be easily broken down for transport to the logs, instead of the other way around. These were most popular in the East. Pennsylvania, New York, West Virginia, Ohio, Kentucky, where smaller disconnected woodlots, and terrain made the huge cable logging operations like those found in Washington and Oregon impractical. However, Andrew assures me that there WERE several portable mills used on the west coast as well.
Enough blathering, you say? Get to the pictures already?
Part I -The prototype: A 1920's era Frick size O mill manufactured in Waynesboro, Pa.
Various detail pictures:
the heart of the mill, the husk
The carriage advance mechanism inside the husk
The sawdust conveyor drive, and blade mandrel
The blade guide detail
The carriage advance winding drum
Carriage advance cable return pulleys
the log carriage
Headblocks, dogs and log advance details.
Dog close up
How the advance cable is attached to the carriage, and carriage track details
And a couple catalog drawings: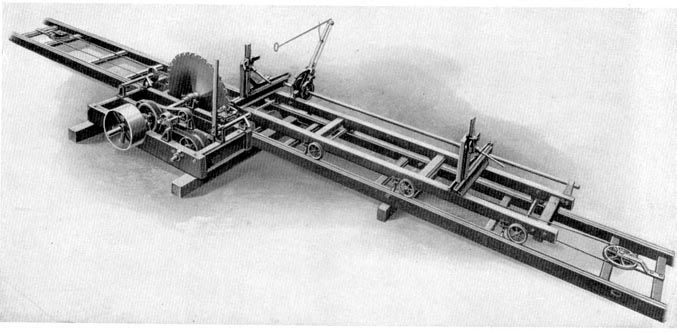 Next up, getting started on the build