About 8 or 9 years ago a guy in Eastern, Pa was selling a bunch of cheap 'flatcars' and 'gondolas' on feebay. These weren't normal cars. He obviously had gotten a bunch of Bachmann reefers and had done 5 minute bandsaw conversions to them. They were rather awful, but they were less expensive than buying the trucks and underframes.... So I bought 4.
The 3 'flats' got their frames and trucks salvaged before I used the decks for parts The 'gon' I started to convert into a basic rider gon before my big D.... Then it got tossed into a box and forgotten about. -- until today. I found it again while I was looking for something else, and I decided I wanted to make me a picnic car
The trucks and underframe were gone, but I had the remains of a B'mann coach floor, and a set of Delton trucks. A bit of Dremel butchery and it looked like this:
A 4 cut down B'mann coach seats and 2 dozen coffee stirrers made for fast and rather passable benches
Base coat of color, and we have this -- not bad for 3 hours work?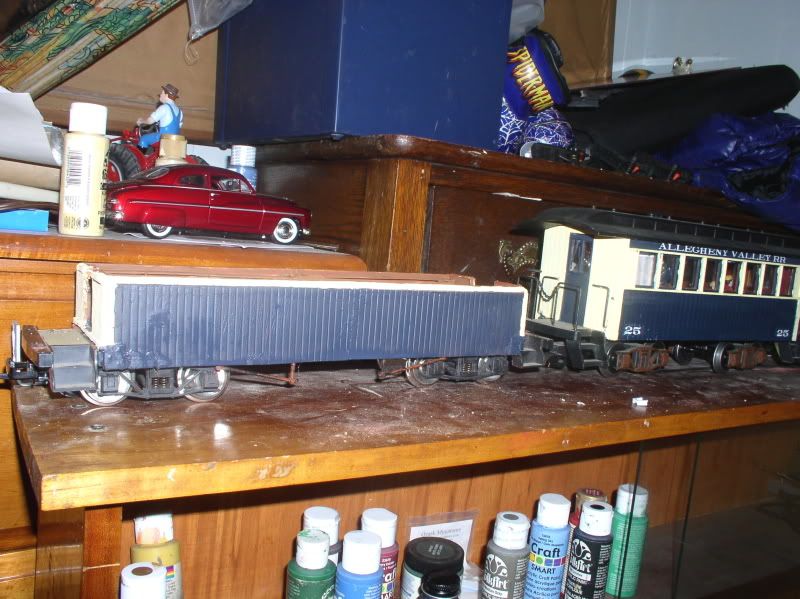 The jury is still out whether I'll build the roof or not, and I need to put washers between the trucks and frame to raise the body to better match the Kalamazoo coaches, add brass end rails and grab irons, do a bit of sanding and touch up, and find some tourists, yet.... But it's good enough for tonite.