Andrew asked nicely that I post a build log or two here. This is a freelance narrow gauge model of a 'coulda been' locomotive. It's based on a 1909 standard gauge Baldwin engine that ended up in the Pacific Northwest. He says that makes 'on topic'?... if your reasoning is convoluted enough.
Here's the Baldwin builder's photo of Little River #126, the inspiration for our build: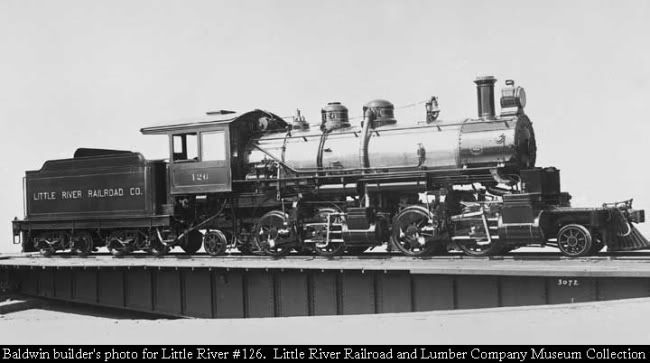 And a later photo of the same loco as Deep River's #7 (aka Skookum):
The heart of this build is a pair of LGB Stainz bricks, In this case from a 2020 and a 2017, and a bunch of NOS Delton c-16 parts. I'd have preferred to use a matched pair of 2017 bricks, but that just wasn't in the budget. Here is the 2020 brick with a pair of valve chests from a junked Bachmann Porter grafted on in the rear, and the 2017 in the front. The pony truck is a set of B'mann big hauler wheels in a Delton c-16 frame:
I connected the two bricks with a bridge made from the baseplated from the Delton c-16 and blind nuts. The rear brick swivels to allow it to run on R-2 curves, so it's technically a Meyer, not a Mallet, but I won't tell if you don't. The boiler is 3 c-16 shells chopped up and spliced
First coat of color, and a mock up. The domes are PVC pipe caps. Expensive little 1/4" copper ells and plastic tubing make up the main steam line. The dynamo is in the 'wrong' location, but it looks really good there so it stays.
Skookum was originally built with 2 air single compressors. Sometime later it was fitted with a compound compressor. I wanted the compound, just to be different. But nobody sells a compound in large scale. Here is my solution. A b'mann single, spliced to a reworked LGB single. It actually looks pretty good once it was sanded and painted.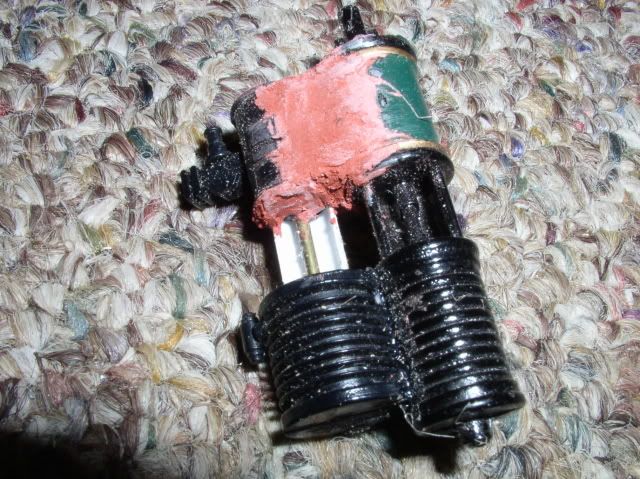 Starting to add chassis details. Ozark Miniatures castings and Delton parts. The .060 x 1/4" brass strap is to hold the front of the brick from drooping when the loco is picked up. Not very elegant, but simple and inexpensive, and not really that noticible once painted.
A face only a mother could love? Yes, I know that the smokebox door is 1880's Baldwin style, not 1909. It's the Delton one with Ozark dogs and DRGW style square number plate. I have scrounged up a Bachmann 10 wheeler smokebox door, but haven't got around to butchering it to fit. The boiler tube pilot is from a battery operated Lionel junker, the toolbox is from an Aristocraft c-16 tender, the headlight is the Euro kerosene one off the LGB 2020 modified to look like an early electric type.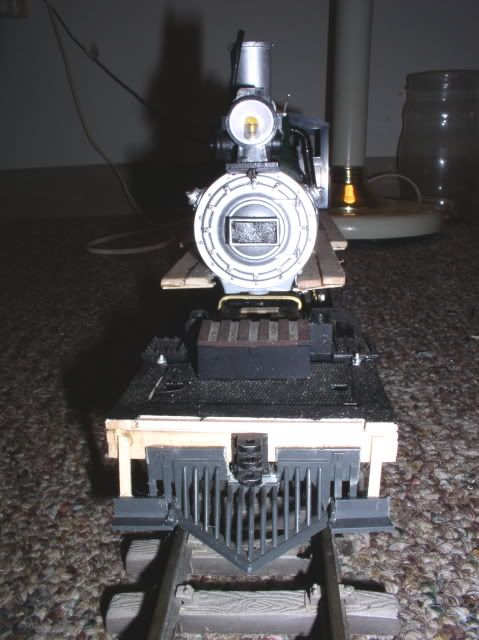 Basswood runningboard additions, and the cab set in place temporarily. Bell, safeties and whistle are Ozark. It's actually starting to look like SOMETHING..... maybe?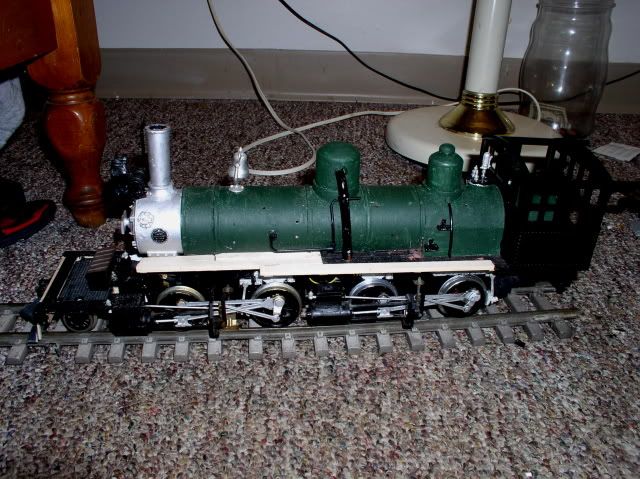 Scrounged a LGB trailing truck from a 0-6-2, and a LGB tender from a 2-4-0 (I was going to use the 2017 power tender for 3 motors and 12 wheel drive, but it was just a little TOO small). Both will need some modification.
The tender has had it's tank shortened (height, not length) by about 3/8". It probably should have had another 1/4" removed, but that would have required more extensive butchery. Except for the fact that it's missing the bottom row of rivets I think it looks pretty good. To match the cab it should be narrowed by 1/4" as well.... we'll see. I really don't care for the trucks, so they will probably get changed out for Bachmann archbars with Ozark leaf springs in the near future. I'll probably use these to convert a Bachmann bobber that I have lying around.
That's as far as I've gotten. More pix as I make progress.