My interested in the Carson & Colorado largely came as an outgrowth of tracking down information on the South Park's Barney & Smith cars. In 1878, the South Park received two 40'6" long and 8' wide coaches from B&S. A few short years later, the Carson & Colorado received its order of 40'6"x8' B&S coaches & head end varnish. There were a few small differences between them, the South Park's had end windows, arched doors, and some minor side detail differences. But, while the South Park modernized theirs and eliminated the distinctive roof profile, the surviving Carson & Colorado's cars remain intact to this day. As of 2000, as I recall, there were at least four of these cars left (1 South Park which is now gone, and 3 C&C).
I chose these distinctive cars to be my first South Park coaches primarily due to having lived my entire life 1hr north or south of Barney & Smith's location. Through studying photo's of Ward Kimball's C&C coach as well as the funeral shots of South Park coach #3, I've managed to construct the sides and ends. Unfortunately, I haven't found a great source of info on the distinct roof profile. If there wasn't a survivor, I'd just approximate it...but we are blessed with survivors.
Here are some photos of the model: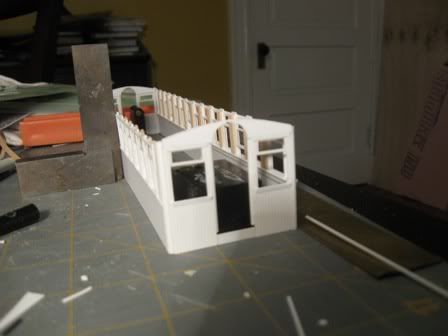 The bottom is the car, the top is a baggage car: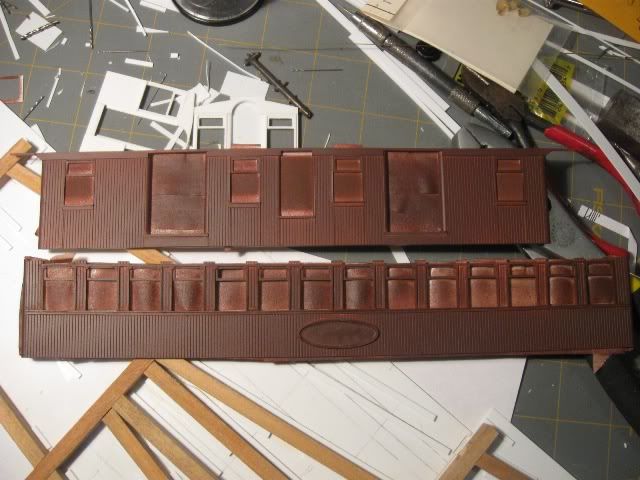 Once I have accurate information on the roof ends, I'll build a roof similar to this:
I'll produce a mold based on the master and create a number of those in resin. I'll also create side and end masters for C&C cars, and add those to my fleet.
Michael