Stacks of wet pulp line path to Alaska Pulp and Paper Co. building, ca. 1920.
Courtesy of Alaska State Library, Eugene Patrick Kennedy Photograph Collection, P444-063.
Alaska Pulp and Paper Mill, Speel River.
Alaska Digital Archives - Eugene Patrick Kennedy. Photographs, ca. 1912-1923. ASL-P444-228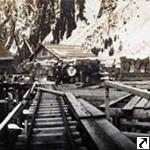 Stacks of paper pulp lined along the wharf awaiting shipment.
Alaska Digital Archives - Eugene Patrick Kennedy. Photographs, ca. 1912-1923. ASL-PCA-444