Reference / Russia Iron
Russia Iron.
Russia Iron by Definition: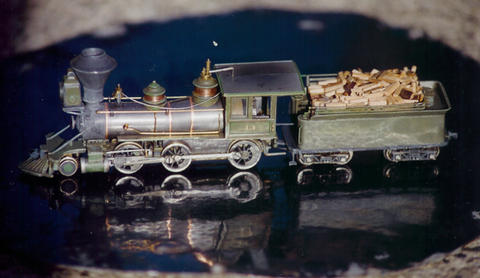 A high-grade, smooth, glossy sheet iron, not liable to rust; once made by a process that was long a secret with Russian manufacturers. The sheets were subjected to severe hammering in piles with powdered charcoal between them.
This name is applied to sheet iron of very highly polished or glazed surface also known as planished iron. It is used for protecting the lagging of engines and boilers and for other uses where a non-corroding black iron of finished surface is desired.
These sheets are made by piling together about fifty pickled sheets of soft steel with powdered charcoal sprinkled between adjacent sheets. The pile is wrapped in old sheets, wired and heated in a furnace to a cherry-red heat for about 6 hours. Upon cooling, each sheet is swept free of loose charcoal and is then sprayed with steam to form a thin oxide. Again the sheets are piled together, heated and then placed on the hammer table, several in a bundle, and pounded with a steam hammer. This brings about a grinding action which grinds the carbon and oxide on the surface down to a highly polished coating.
From: An Elementary Outline Of Mechanical Processes by George W. Danforth, 1912.
Russia iron is used for roasting pans, baking pans, and also for stove pipes, patent elbows, etc. It is a special grade of sheet iron with a medium grey, slightly mottled appearance, due to oxide adhering to the surface so tenaciously that it cannot be cracked off by repeated bendings. It is produced by binding multiple iron sheets (they claim the iron is important) together in "books" with coke or charcoal powder between the sheets. The book was then placed in acid baths, heated, and beaten (hence the term "planished"). The book was then broken apart, the sheets shuffled reassembled with more coke, then the acid bath heat and beating resumed. This process was repeated several times. Afterward the sheets were graded, with the medium grey being the highest quality and used for export. Lesser grades were used as roof iron.

American iron was made in a similar process with rollers replacing the hammering.
Research.
Paint in B&W photos and matching Turn of the Century paint colors.
From: Kyle Wyatt, Includes discussion of Russia Iron "color" from period photographs.
Russia Iron Notes From Jerry Kitts and Kyle Wyatt.
Research On Russia Iron, Compiled by Steve C.

400k
Historic Examples In Photographs.
Click to enlarge.
McKay and Aldus Built C.P.R.R. Locomotive "Majestic" and crew ca. 1870. Lawrence & Houseworth image. Society Of California Pioneers Collection.

Sierra Valley Railroad Engine No. 1, at Plumas Junction, California. ca 1895. Her jacket finely polished, this image illustrates the reflective nature of Planished Iron.
UC Chico Meriam Library Collection
Contemporary Samples.
Samples from V&T #12 "Genoa", samples date to 1873. California State Railroad Museum Collection. Photographed By Kyle Wyatt.
Samples from V&T #22 "Inyo". Nevada State Railroad Museum Collection. Photographed By Kyle Wyatt.
Sample from V&T #20 "Tahoe" in the Railroad Museum of Pennsylvania Collection.
Samples Southern Pacific Narrow Gauge Combine #1010, found during restoration. SPCRR collection. The first four images show the same side of the sample from different angles and lighting conditions, note the change in color. Photographed By Craig Hoefer.
Triple expansion steam engines used for sewage pumping from the 1890s-1920s clad in Planished Iron, all with original jackets at the Melbourne Science Museum.
David Fletcher Photographs.
ca. 1900 steam cylinder model clad in Planished Iron at the Melbourne Science Museum.
David Fletcher Photograph.
Planished Iron pipe wrappers at the Melbourne Science Museum.
David Fletcher Photographs.
Russia Iron sample on period locomotive model in CSRM Collection. Andrew Brandon Photograph.
Patents.
Collected Planished Iron Patents. Compiled by Steve C.

2.7mb
Documents Available Online.
Imitation Russia Iron From: "Annual of Scientific Discovery or Year Book of Facts in Science and art", 1864.

"The Manufacture Of Russian Iron" by Dr. John W. Percy. From the Practical Metal-Worker's Assistant, 1872. Compiled by Steve C.

8.0mb
Notice of book publication by Dr. John W. Percy

Phelps, Dodge and Co. advertisement
From the American Railroad Journal, January 4, 1873.

Description of "Russia Iron" from Knight's American Mechanical Dictionary Vol III 1877.

Article on Russia Iron.
From Engineering and Mining Journal, September 21 1878.

"Manufacture Of Russian Sheet Iron" The Engineering and Mining Journal, Dec. 1, 1888 pg 461-462.

Catechism of the Locomotive. By Matthias N. Forney
General summary of locomotive priciples, includes references to Russia Iron use on locomotive and common boiler jacket construction. Second Edition, 1892.

Mention of Bruce and Cook of New York, "now about the only importers of Russia Iron in this country."
The Metal Worker, August 8, 1898.

W. Dewees Wood obituary.
From the American Economist, February 10, 1899.

Dealings with a sheet mill labor dispute.
From the Metal Worker, July 6, 1901.

Trade Report from The Metal Worker, Plumber, and Pipe Fitter. July 27, 1907.
Mentioning the difficulty in obtaining Russia Iron.

The Iron Industry In Russia. Published by the Russian Economic League, 1919.

Index of Russia Iron suppliers.
Metal Worker, Plumber, and Steam Fitter. July 2, 1920.

Remembering 'Wood's Works' by Jason Togyer. Tube City Almanac (McKeesport, PA), February 23, 2011.
Mention of Dewees Wood's mill, a planished iron producer once located in McKeesport.
Reference / Russia Iron