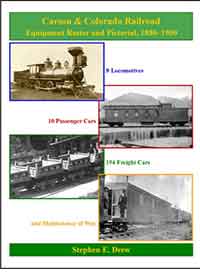 So now that we have a blog, there is a question of what to use it for…
Today, I would like to review a new publication of interest, Carson & Colorado Railroad, Equipment Roster and Pictorial, 1880-1900 by Stephen Drew…
This is the latest in a series of monographs published by the Virginia & Truckee Railroad Historical Society. Previous volumes have looked at the V&T's box cars, gasoline motor cars, and depots as Gold Hill and Virginia City. Of course, the Carson & Colorado was built and controlled by the V&T, and the records of the two companies are interwoven.
The book is not just well researched… it comprehensively researched, as only Stephen could. Sources cited and included are locomotive specification sheets, shop records, paint records, newspaper reports both from the collections of the Bancroft Library, California State Railroad Museum, University of Nevada Reno, Nevada Historical Society and from various private collections.
Where previous rosters have concentrated on the original gas pipe cars,, Stephen takes us through to 1900, and the sale to Southern Pacific interests, including later wooden box and flat cars built in the V&T shops, as well as 4 wheel dump cars, and outfit cars.
It is 44 pages (including the covers) staple bound, with lots of color, printed on heavy glossy stock. It will be available (its not yet listed) from the V&T Historical Society (www.vtrrhs.org) Likely premiering at their annual conference in Carson City in October. The expected price is $20.00
I strongly recommend this as both fun read and as a basic resource for C&C history
Randy
Comments Off

on Carson & Colorado Equpment Roster – a book review

Categories [Uncategorized]